Here are some of the next generation instructors up and coming under the guidance of our Advisory Board
Meet our amazing team.
We're a talented group of creative individuals interested in art, cinematography, design, music, and all niches in between.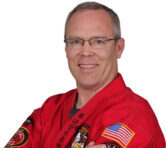 Sensei Philip Jauch
Chief Instructor of Kaizen IBBA
Phil's journey began when his second son turned 10 and he wanted to find something to help build his confidence and self-discipline and something Philip could do for exercise. A friend recommended karate as something they could do together and IBBA as a great place with friendly staff and focus on character education. "We loved the fact that the curriculum was not about fighting, but about doing your best to stop a fight and focusing on your character to always choose 'right over might'". Philip made great friendships and found a passion for martial arts while finding a healthy physical program, and his exposure to multiple arts through the IBBA connection to United Martial Arts Alliance expanded his horizons to train in Tai Ji, Progressive Arnis (Lakan and certified instructor), Brazilian JuJitsu (blue belt), International Kenpo Karate Jujitsu (4th Degree Black Belt), Kamishin JuJitsu (4th Degree Black Belt) and Tui Na. Philip's passion and commitment have led him to become a school owner and the President of UMAAI as he continues his journey as a student.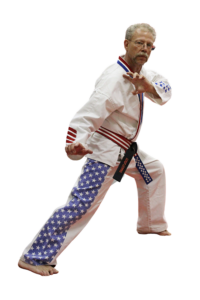 Kyoshi James Denning
Chief Instructor of Mountain States IBBA
Kyoshi James Denning is a 7th Degree Black Belt in International Kenpo Karate Jujitsu under Professor Robert Austin. In addition, he is a 5th Degree Black Belt in Shorin ji Tetsuken do Kanda ha Kamishin Ryu Aiki JuJitsu under Soke Don Phillip. Kyoshi Denning is the Chief Instructor at the Mountain States IBBA School. Mr. Denning is a 3rd generation Greeley native and has trained under Professor Austin since 1992.
He is committed to teaching a developmentally-based curriculum which teaches not only useful self-defense skills, but also provides an uplifting and family-oriented environment with an emphasis on character traits, self-discipline, courtesy, respect, self-control, goal setting and personal safety. "After 20 plus years, it is still a pleasure to be a part of a wonderful team of encouraging staff members as well as this wonderful family of students! I am very glad to be the lead instructor at the Greeley school!"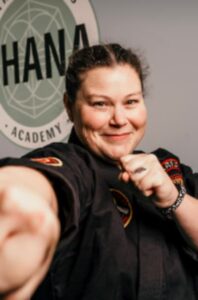 Sensei Carissa Morris
Chief Instructor of Ohana Martial Arts Academy
Sensei Carissa Morris began her Martial Arts training in International Kenpo Karate Jujitsu and Kamishin Ryu Jujitsu in 2008 and holds the rank of 3rd Degree in each art. Sensei Morris started teaching as an instructor in Fort Collins, Colorado in 2011. In her capacity as an instructor, Sensei Morris was instrumental to the Black Belt preparatory classes. She also concentrated on building active Women's classes while still managing her duties teaching both youth and adult classes. Prior to teaching Martial Arts professionally, Sensei Morris studied early childhood development and worked for Little Lambs preschool in Fort Collins. Sensei Morris is Founder and Chief Instructor at Ohana Martial Arts Academy.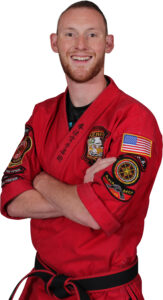 Sensei Carl Bachenberg
Head Instructor at Kaizen IBBA
"Sensei B" has been training at International Black Belt Academy for 18 years. He has earned a 3rd degree Black Belt under Professor Robert Austin and is now the Operations Manager for Kaizen International Black Belt Academy. He is committed to teaching health and wellness as well as moral values and personal growth and development through martial arts training. "Being able to change lives and help people is what this program is all about," he says. "I am proud to be a part of a place with such wonderful staff and students."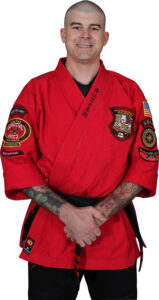 Sensei Lee Urton
Head Instructor at Kaizen IBBA
Sensei Lee Urton is a lifelong Martial Artist, father of three, and veteran of the Iraq war who has been teaching at Kaizen IBBA for nearly a decade. He spent his childhood training in traditional Karate schools, and in his teenage years transitioned into western boxing before joining the Marine Corps in 2000. While a Marine, Sensei Urton served as an infantry team leader and received numerous awards and commendations for his service in combat during the 2003 invasion of Iraq. Since his military service, Sensei Urton has attended CSU's Health and Exercise Science program, as well as devoted his life to teaching and empowering people of all ages (particularly children) to live healthier, happier, and more active lives through Martial Arts, inspiring all his students to live up to their potential. As a father of three, Sensei Urton understands the value of Martial Arts in young people's lives and the enormous positive impact it has on both physical and emotional health and he has made it his mission to share the Martial Arts with as many people as possible.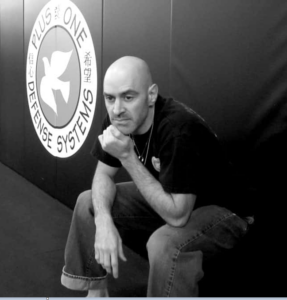 Kyoshi Darin Reisler
Chief Instructor of Team Plus One
I have been very blessed and have had the opportunity to study many different martial art styles. As such, I hold black belt ranking in multiple systems with different foundational emphasis.
In 2003, members of the Board for the United Martial Arts Alliance International, under the direct guidance of Kyoshi Robert Austin, and amongst witnesses present at the time, examined my combining of martial arts styles. After physical examination, presentation of katas/kuens, kickboxing, and self-defense concepts, and after intellectual questioning and review, the Board recognized my system as unique, and awarded me the honor of founding a new system of study. Sho Biyn Jiu (translated as "First Understand Peace") was formally recognized. This was the first time in the Board's history that such an honor was bestowed, and I do not take that responsibility lightly.
I continue to train with instructors from around the country and advance the system, which at its heart, is one of peace. Additionally, the system has been recognized by multiple organizations, and I was inducted into the United States Martial Arts Hall of Fame in 2006 and Action Magazine's Hall of Honors as a Master Instructor in 2008.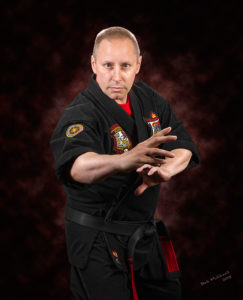 Kyoshi Bob Koch
Head Instructor at International Black Belt Systems
Bob's martial art journey began in 1984 at American Self Defense Studios in Cheektowaga, New York with Sensei Robert Garus. I was a full time instructor at that academy from 1985 through 1992 and earned my Black Belt under Sensei Garus in 1992. In September of 1992, I launched my career as a full-time studio owner, which I continue to operate today. In 1993 I initiated tutelage from Kyoshi Robert Austin of Fort Collins, Colorado. Kyoshi Austin is President of the United Martial Arts Alliance International; and I am the east coast representative for the UMAAI. Currently, I am ranked as a 6th Degree Black Belt in International Kenpo/Ju-Jitsu under Mr. Austin. I also recently began additional instruction from Francisco Vigoroux of New Jersey, an 8th Degree Black Belt in American Kenpo Karate. I plan to continue developing both my academy and my martial arts skills with the knowledge and expertise provided by both Mr. Austin and Mr. Vigoroux.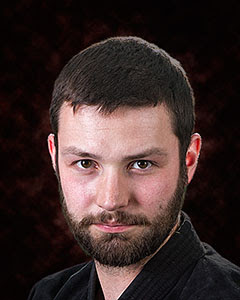 Sensei Ben Aldridge
Chief Instructor of International Black Belt Systems
I started my training with Kyoshi Robert Koch in Alden, NY in August of 2001. Over the years I've been very lucky to have trained with many exceptional martial artists. I currently hold the rank of 4th Degree Black Belt in International Kenpo Karate, and hope to be able to test for my 5th Degree in 2021. In May of 2019 I made the leap to owning my own studio when I took ownership of Kyoshi Koch's dojo. It has been an incredible honor to continue the legacy that he has created. An important goal in my life is to help people, and I feel the best way that I can do that is through martial arts. I aim to be able to run my studio full time to better serve my students and continue to foster an environment where people can come to better themselves.